Vorderman's Big Brain Game
See the Sudoku Solver's Sudoku on TV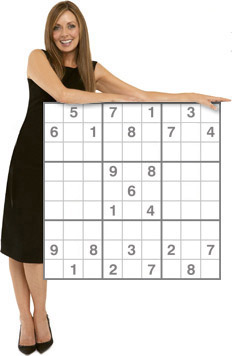 Vorderman's Big Brain Game is a one-stop shop for your total brain workout bringing together number crunchers, word smiths, puzzle-meisters and game gurus as they compete for big money and star prizes. Vorderman's Big Brain Game sees our host Carol Vorderman putting two teams through a series of punishing mental agility tests. Clever captains will be joined by smart celebs and together with the Sudoku playing contestant, they will battle it out to win big on Britain's brainiest quiz show.
The Big Brain Game
The Sudoku grid will be filled as teams answer questions correctly and at the end of the game, the team with the most points will go forward to play for the cash and beat the Vorderman's Big Brain Game Sudoku grid.
Carol will take the teams through a logic puzzle, a spatial awareness test, a word code round and finally a quickfire question round. Teams will have a limited time to work together to find the correct solution. The faster they provide correct answers the more numbers they win for the Sudoku grid.
A fully completed grid will entitle them to the cash, so the more they contribute, the better chance they will have of winning.
Win a holiday!
Please view more information on the Sky One website on winning a week in Mauritius at the luxurious five star: Le Telfair Golf and Spa Resort.
Competition details PRINT Sudoku Grid
Notes
All visitors are welcome to print the empty Sudoku grid.